Marine Corps Offering Former Reserve Pilots $30K to Return to Service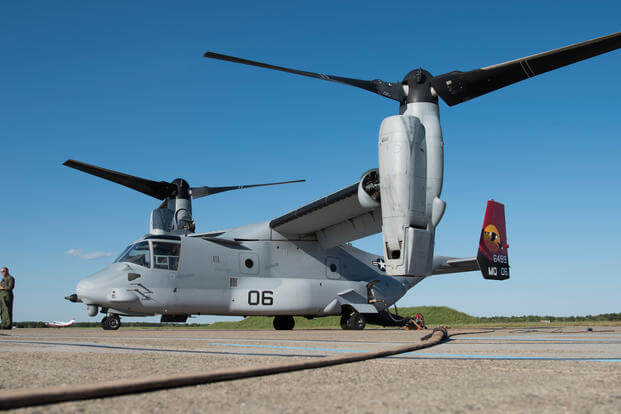 Former captains and majors qualified to fly certain aircraft who are willing to rejoin a Marine Corps squadron can pocket up to a $30,000 lump-sum bonus if they agree to a three-year term in the Active Reserve. Those willing to serve two years in the Reserve are eligible for a $20,000 payout.
It's called the Active Reserve Aviator Return to Service Program, and it targets six types of fixed-wing, rotary and tiltrotor pilots "in order to fill critical aviation shortfalls," a service-wide
message on the bonuses
 states.
Top priority will be given to former F/A-18 Hornet and MV-22B Osprey pilots, along with KC-130 Hercules aircraft commanders, according to the message. But the program is also open to former AV-8B Harrier, UH-1Y Venom and CH-53E Super Stallion pilots.
Related: Marines Offer Big Bonuses to Leathernecks Who Can Help Deceive the Enemy
"The retention incentive is distributed as a lump sum of 20,000 dollars for the 24 month service obligation or a lump sum of 30,000 dollars for the 36 month service obligation, less any applicable taxes," the message states. "Lump sum payment will not be paid out until the member is joined to the [Active Reserve] program."
The incentives will be paid out on a first-come, first-served basis "until funds are exhausted," it adds.
Only aviators who previously qualified for — or had not yet applied for — career designation are eligible. Those who applied for but were not offered career designation in the Active Reserve are ineligible, the message states.
Pilots who were already career designated on the Active Reserve will automatically be career designated upon re-accession. Those who hadn't previously applied for career designation will be able to do so once they rejoin.
Top assignments will involve flying operations at the squadron level across several Reserve units in the continental U.S., including California, Virginia, Texas, Arizona, Maryland or New Orleans. Assignments aren't limited to those squadrons though, the message adds.
Captains who served more than 10 years of active-duty service who weren't previously considered for major on an Active Reserve promotion board are eligible to apply. So are majors who weren't previously considered for O-5 who served more than 12 years on active duty, and those who were considered for lieutenant colonel who served more than 15 years.
Earlier this year, the Marine Corps announced it would be offering big bonuses to active-duty pilots as well.
Top bonuses targeted Marines in the grades and communities with the biggest pilot shortages. Active-duty pilots were eligible to earn up to $280,000 bonuses if they agreed to keep flying for eight more years.
The bonuses targeted captains and majors who fly the F-35 Joint Strike Fighter, F/A-18 Hornet, AV-8 Harrier, MV-22 Osprey, C-130 Hercules, UH-1 Huey, AH-1 Cobra and CH-53 Stallion.
— Gina Harkins can be reached at . Follow her on Twitter @ginaaharkins.
Read more: The Marines Are Doling Out Up to $280K in Bonuses to Keep Pilots Flying