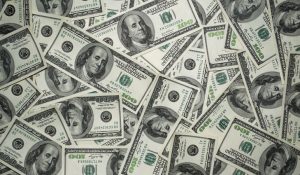 Let's not beat around the bush – as the saying goes "no bucks, no Buck Rogers"!  Without the financial support of our members and corporate sponsors, all of our programs would grind to a halt.  WCMOA pours all donated funds back into the organization to support multiple outreach programs, not the least of which is our Young American Awards, which in 2022 with the help of our members and sponsors gave over $15,000 in scholarship awards to deserving high school seniors in Fairfield county.
We are very grateful for our current corporate sponsors, including Quest Diagnostics, our overall event sponsor, and Patriot Bank N.A., sponsor of our headline "Young American Award."  There are incredible advantages for both private and corporate sponsorship – we work hard to make sure your financial investment in our community is worth every penny!
By supporting WCMOA, we will help represent to your clients how committed you are to supporting the local community with the help of military veterans who have worked much of their life to serve a greater good.  Our staff will work with your promotions department to make certain you are getting full value for your investment.
We offer many levels of sponsorship to take full advantage of our headline yearly function, the Young American Awards held each year in June.  All donations/sponsorships that WCMOA receive are entirely used to support all our important functions throughout the year.
General Staff: $1000 Donation or above; Naming rights on a YAA scholarship and the opportunity to present it at YAA, a full page ad in the event brochure, multiple press releases for the event, as well as potential multi-media, including television, coverage related to the event
Captain's Crew: $500 donation or above; a half page ad in the event brochure, and mention at YAA event which will be sent out in a press release
Officers Club: $250 and above; a quarter page ad in the event brochure
ANY level of corporate sponsorship is available and we will work with you and in hand to make certain you get the most value out of your sponsorship dollar. If you have any questions concerning corporate sponsorship and how WCMOA can make it work for you and your business, please call Mike Riffice (+1-203-615-8397 or ) to discuss.
PLEASE DONATE TODAY!