WCMOA SPRING QUARTERLY MEETING 
On Sunday, 19 March, WCMOA held its Spring Luncheon at Redding Country Club. After the Pledge followed by LTCOL John Simonetti giving the invocation, 1LT Matt Hicks had some announcements. In addition to our normal chapter admin, Matt put forward CW3 Will Seeley as the president-elect for WCMOA.  Congrats Will and thank you for taking the helm of leadership.
Take a look at all the event photos
---
A special note for a dear departed friend of WCMOA…long time member and just all around wonderful person, David Cole, literally had the "angels" saying goodbye at his inurnment at Arlington National on 6 March – this picture says it all!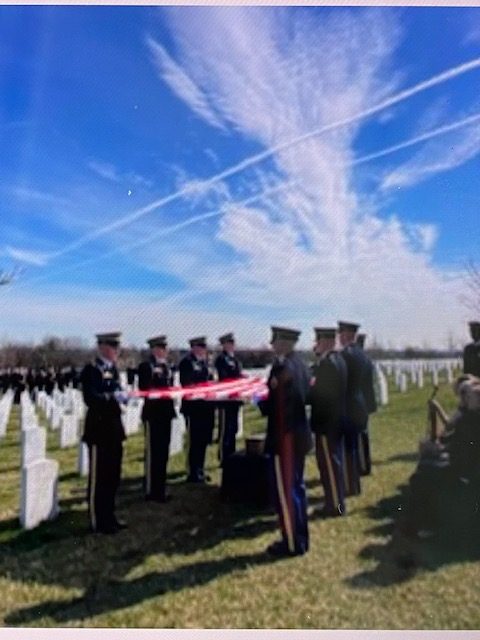 ---
IT'S THAT TIME OF YEAR!!!
2023 YOUNG AMERICAN AWARDS
The Western Connecticut Military Officers Association will hold our signature event – the Young American Awards banquet on Thursday, 1 June 2023, from 5:00pm to 8:30pm at Tashua Knolls Country Club, 40 Tashua Knolls Lane, Trumbull, CT.  Please join our Young American Award nominees from all over Fairfield County!
Nominees for the 2023 Young American Award candidateCLICK HERE
Once you complete your application, to make your military banquet reservations CLICK HERE
WCMOA Members – To make event reservationsCLICK HERE
If you have any questions, please contact your school liaison officer or the Young American Awards co-chairs:
 or call Donna (203) 577-9568;
 or call Mary (757) 373-5646; or  or call Susan (203) 257-2089
---
Chapter Activities
The chapter holds business and social meetings quarterly.    Regular quarterly meetings are held at a variety of venues within Fairfield county and we always have an engaging guest speaker.
In June, the chapter conducts an impressive formal military dinner and ceremony to honor our Young American Awardees.  The Young American Awards Program (YAA) honors  graduating seniors from over 30 area High Schools, selected for their patriotism and leadership potential.  Be sure to check the chapter's newsletter for location and program information, or or contact Donna Monteleone, Membership & Recruiting Chair, on or +1-203-577-9568.