Former YAA Award Nominee Spotlighted at UCONN Veterans Day Provides Opportunity to Recognize UConn's Military Community
Educating, training, and celebrating the 800 military-affiliated students at UConn
When UConn's military community comes together Friday morning for Veterans Day, they won't be outwardly marking a "first" of any kind.
In much the same way that tradition and history is ingrained in the culture of the U.S. armed forces, the annual ceremony persisted during the pandemic, albeit with fewer people and a livestream, and every year generally stays true to the same format of speakers who convey words of reverence and honor.
But to say nothing new is happening in the Office of Veterans Affairs and Military Programs would be wrong.
The department was one of only 10 in the country to receive new federal funding this year to establish a Veterans Upward Bound program meant to identify low-income, at-risk, or first-generation potential college students who are veterans and ready them for post-secondary education.
It's a first for Veterans Affairs, which was created in 2013 and touches around 800 military-affiliated UConn students – not just the department's first grant but Connecticut's first Veterans Upward Bound program. The nearest two are in Boston and Rochester, New York.
"Our military community is a small community in a small state," Veterans Affairs Director Alyssa Kelleher '04 (CLAS), '17 MS says. "And at UConn, our students are an even smaller community. Twenty-eight percent of our students have children, and even more than that have a partner, a home, a job, or other responsibilities that come with being an older student, because we skew slightly older than the average student on campus."
Many UConn veterans serve in the National Guard or Reserves, and many have spent time on active duty, she adds, giving them both the burden and benefit of bringing a different life perspective to campus.
"A lot of our students are making a big transition. They're coming out of a world they've known for four or six years, maybe even longer, and into something completely new where there is a different culture and environment. For them, the focus is on getting an education," Kelleher says. "Most of them are not here for a social experience; that's something we try pull out of them. College is a means to a new end in their life."
Kelleher says that while UConn military students span the spectrum of majors – yes, including puppet arts – the schools of Business, Engineering, and Law tend to have the highest concentrations, because, generally speaking, "they're often looking for a degree that clearly translates to a job or clearly translates to an occupational goal because they're used to a goal-oriented culture and mindset."
Part of getting to that end inevitably means securing funds to support the journey – just one driver that prompted Kelleher to enlist in the National Guard while a college freshman, join UConn's ROTC program, and commission into the Army. Her tuition was paid.
Helping UConn military students navigate the tangle of scholarship opportunities, GI Bill benefits, and National Guard tuition waivers is the primary mission of Veterans Affairs. Kelleher says the second is managing the students' personal needs, whether figuring out how to pause classes because of a deployment, return to full-time status upon return, or come together as a community for something like a Veterans Day ceremony.
"To me, the most gratifying part of my job is working with the individual students," she says. "With 800, it's a small enough population that you can help individual people if they have issues – whether it's financial, or adjustment, or just finding them a place to go in between classes. I really appreciate how UConn is part of their journey and how we're helping to provide for them and realize their goals. Just helping people to see it's possible to get your education here is gratifying."
A college experience and military training
By 9:30 a.m. on a recent Thursday, Katharine Riffice '23 (CLAS) has been up for six hours already and has finished an 8-mile ruck around campus with the other members of UConn's Army ROTC detachment.
"It's different than a run," she says. "It's different from a walk."
Carrying 35 pounds of equipment on her back, including a helmet and tactical gear, she traversed campus on an 8-mile loop that brought her up and down Horsebarn Hill several times and on nearby streets and sidewalks at a 15-minute mile pace or better – all while her classmates slept in the wee hours before dawn.
She and her fellow cadets are readying for a 12-mile ruck in mid-November, a feat she's completed five times since joining UConn's ROTC program in her freshman year. Today, the psychological sciences major who hopes to join the CIA or FBI one day, serves as commander of the detachment this semester.
And as if the regular rucks around campus weren't demanding enough, the detachment has applied to the Norwegian embassy to host a Norwegian Foot March, roughly the equivalent of an 18.6-mile ruck, she smiles.
"ROTC is a really good way to join the military," she says. "You still get the college experience, however, you also get the military training you're looking for, and the benefits it provides. If you want, you can go active duty after graduation. If you want to go into the National Guard or Reserves you can do that instead."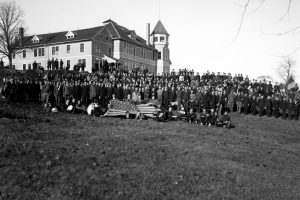 Over the course of four years, ROTC provides students with the equivalent of basic training and Officer Candidate School, in addition to their undergraduate degree. With college diploma in hand, they commission as second lieutenants into the military.
Lt. Col. Seth Allen oversees UConn Army ROTC, which includes students from 10 other universities, including Central and Eastern Connecticut State universities. Roughly half of the total 150 students come from Storrs.
"What we offer is unlike the other programs at the University, because while you're going to learn a very unique skillset through the University, we're going to teach you how to be a leader," Allen says. "You're going to become a lot more mature and confident in what you're capable of doing. You're going to be a more well-rounded individual who's ready to tackle the future differently than a lot of your peers."
What we offer is unlike the other programs at the University, because while you're going to learn a very unique skillset through the University, we're going to teach you how to be a leader. — Lt. Col. Seth Allen, UConn Army ROTC
He says he's particularly taken with the cadets in his care and their desire to serve not just their country but their communities, as many either will go into the Army National Guard or already have joined.
"They're going to be your neighbors, but on weekends they're going to be flying aircraft or doing something equally as amazing. On weekdays, they're going to be working at Amazon or the local fire department," he says. "That's the unique thing with the University of Connecticut crew, they go back into the community and just continue to serve out there."
Jonathan Bartolotta, Army ROTC program coordinator, says he had aeronautical school on the mind when he was 18 years old, but didn't pursue a military career until years later when he hit a personal crossroads and finally acted on his desire to join the Air Force.
"It was one of the greatest experiences of my life," he says. "I came out of the Air Force four years later with a college degree and no college debt. It was a great thing to do."
In addition to Army ROTC, UConn also boasts an Air Force ROTC detachment, which includes students from five universities, most of whom, 44 of 50, come from UConn. Lt. Col. Ryan White says this unit is special.
"UConn Air Force ROTC has been around since the creation of the Air Force," he says. "We started out as an Army Air Corps ROTC unit back when the Air Force was part of the Army. Then, with the birth of the Air Force in 1947, that was the beginning of the Air Force ROTC. There are 145 other detachments out there, but not all of them trace back this far. There's heritage and history here at UConn."
White previously was commander at Vandenberg Space Force Base in Santa Barbara County, California, working with SpaceX and Blue Origin, but describes his work at UConn as a "pinnacle assignment."
"The mission is completely different, but at the same time this, too, is an incredibly important assignment for me," he says. "It's an opportunity to guide and mentor future officers to do what I've been doing for the last 20-plus years."
He echoes Allen when saying ROTC teaches leadership, as opposed to technical prowess.
"The last thing I want is for anybody to think ROTC is just for engineers," he says. "What we're looking for is not engineers to do engineering work. We are looking for cadets to be leaders in the Air Force and you are going to find those leadership skills are not inherent to one degree, or one school, or one department."
Bethany Grabowski, program coordinator for Air Force ROTC, is a former military spouse with family in the Coast Guard, Army, and Marines, and notes the range of professional opportunities in the military.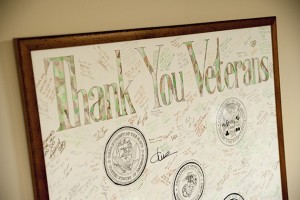 "A lot of people don't realize that any job that exists in the civilian world, exists in the military world," she says. "You can certainly join and become a pilot. You can join and become a doctor, a nurse, an acquisitions officer, or work in procurement. There are a lot of different paths and different options."
Supporting and Defending the Constitution
The fact that Riffice is a female in what is a male-dominated profession isn't lost on her. It's the reason she pays respect on Veterans Day to those who paved the way.
"The military has changed so much. Acknowledging its past and its transformation is really important," she says. "Women used to not be allowed in, and now women are able to do combat arms. Women are going to Ranger School. For me, as a female in the military, that's important. You need to acknowledge where you were in the past to see how far you've come in the present day. That's what Veterans Day does, that's what you're celebrating, these people who have made it possible."
With a family military history that dates to the Civil War, Allen says this Veterans Day he wants his cadets to understand the work they're doing now is preparing them for one job – bringing home the soldiers who eventually will look to them.
"It's not just thinking about themselves but thinking about the families that are behind those soldiers. They need to be a good battle buddy and make sure everyone is taken care of, there's not a more important job than that," he says.
Along with acknowledgment and staying mission focused, White says Veterans Day should be about giving thanks.
"When you start thinking about veterans across the nation, there's a broad segment of the population who has stepped forward, raised their right hand, taken an oath to support and defend the Constitution of the United States, and perform the mission they are tasked with," he says. "Veterans Day is a day for us to be thankful for their service, thankful for them volunteering, and thankful for the work they have done for the United States of America."