PayPal Instructions
Great!  You are using PayPal to for your WCMOA transactions!   We appreciate it!
You can pay your dues, make luncheon and YAA Banquet reservations, and donate to the YAA with PayPal.
Or use our QR code: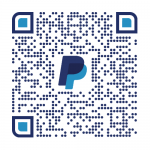 You do NOT need a PayPal account to DONATE to the YAA!  You may use your favorite Credit Card. 
Donations are tax deductible!
Using PayPal is the easiest way to pay bills or send money to ANYONE or ANY BUSINESS.   Make sure  you are "Sending to a Friend" so no fee is charged.  If  you do not have a PayPal Account you may learn more and set up an account for FREE at PayPal.com.
If you do NOT have a PayPal Account:
Go to PayPal
Click SEND 
Click Send Money 
Type in your payment amount.
Click CHANGE.
On the next page MAKE SURE it reads "Sending to a Friend".  (

Very

Important

!  This insures

neither

you nor WCMOA pays a FEE to PayPal!!)
Type in a NOTE to tell us what the money is for.  This is an easy place to make a YAA Donation.
EXAMPLE: "John & Mary $90 for quarterly event plus $30 YAA Donation"
Click CONTINUE
Fill out any appropriate Credit Card info. (Note: PayPal will take a percentage of your Credit Card payment, that is why it is better to have a PayPal account!  What are you waiting for?)
Review your payment and click SEND MONEY.
Thank you.