Our Next Quarterly Event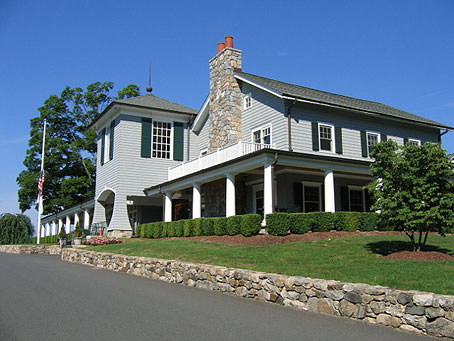 Join us at Noon on Sunday, 15 March, at the beautiful Redding Country Club, for our Spring meeting and to hear our guest speaker, Robin Montgomery, formerly of the USMC and FBI.
Robin has had a distinguished, multifaceted career. As a Marine in Vietnam he was the recipient of the two Purple Hearts and the Navy Cross, the second highest medal for valor. He was inducted into the CT Veterans Hall of Fame in 2013.
Robin spent 26 years at the Federal Bureau of Investigation, overseeing and investigating several highly publicized cases, such as the incidents at Waco and Ruby Ridge. He was the agent in charge of protecting the man who shot George Wallace, Arthur Bremer. Robin was also one of the FBI agents sent to the hospital the day President Reagan was shot, with the FBI ending up securing the president's nuclear code card! His last assignment was as the Director of the FBI's Critical Incident Response Group.
After his time with the FBI he went on to serve as the Chief of Police in Brookfield, CT for 16 years. He also taught Justice & Law Administration at Western CT State University as an Adjunct Professor.
Along the way Robin helped establish the Marine Corps – Law Enforcement Foundation that raises money for the children of Marines and fallen law enforcement agents. He's also President of Brookfield Cares, an organization focused on suicide prevention and substance abuse.
Robin will speak about some of his experiences during his long career with the FBI and the lessons learned and the changes in negotiation tactics to one of "strategic patience" when handling hostage and crisis situations.
**Price: $45/Head for members…and we will be advertising again for NEW MEMBERS with local American Legions and VFW's, as well as local news outlets!  Come out and support WCMOA on this important membership drive!
ATTENTION NATHAN HALE Chapter Members!  You are invited as our guests!  GO to the RESERVATION PAGE and fill out the form.  We want to welcome you as members of WCMOA too.  See you at the Luncheon!
Make your Reservation NOW!  –> CLICK IT
                                                                                              ________________________________________________
On Sunday, 29 December, WCMOA celebrated our Christmas  at the beautifully decorated Redding Country Club (Thank you Don!)!  A wonderful time was had by all as welcomed Michael Zacchea (guest of Al and Maribeth Smith) to discuss his Veteran Entrepreneurial Bootcamp which is helping veterans across the country with his signature program tied to UCONN.  We also welcomed guests from the Nathan Hale MOAA chapter and look forward to aligning our membership!  
____________________________________________________
Membership
Eligibility:  Men and women who have served or are serving on active duty, or in one of the National Guard or Reserve components, as a commissioned or warrant officer in one of the seven US uniformed services, as well as widows or widowers of any deceased member of one of those services.
Dues – WCMOA has several different membership opportunities – Annual/Multi-year, and Lifetime:

Annual:   $20     ($20/year)
3 Year:     $50     ($16.66/year)
5 Year:     $75     ($15/year)
LIFETIME:   $200
Over 80+ and Auxiliary Members:  FREE
To join our ranks, please fill out and send us a Membership Form.
WCMOA, PO Box 2145, Norwalk, CT 06852-2145
Or Contact Susan Monks, Membership Chair, on or +1-203-257-2089.
Chapter Activities
The chapter holds business and social meetings quarterly.    Regular quarterly meetings are held at a variety of venues within Fairfield county and we always have an engaging guest speaker.
In June, the chapter conducts an impressive formal military dinner and ceremony to honor our Young American Awardees.  The Young American Awards Program (YAA) honors  graduating seniors from over 30 area High Schools, selected for their patriotism and leadership potential.  Be sure to check the chapter's newsletter for location and program information, or or contact Susan Monks, Membership Chair, on or +1-203-257-2089.