News
Join us at the Redding Country Club on March 24th for our Spring gathering. Our guest speaker is Connecticut American Legion Commander CMSgt Tom Flowers, USAF (Ret).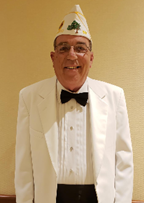 Tom was born in Waterbury, Conn., in 1947 and raised in Stratford, Conn. He entered active duty military service in the United States Air Force in 1966. His career in the Air Force spanned 27 years until his retirement in 1993 in the grade of Chief Master Sergeant. After his retirement from active duty, Tom went to work for Specialized Marketing, Inc., in Dallas, Tex., as a multi-state Regional Sales Manager with his clients being exclusively military installations. Tom retired again in 2005 from Specialized Marketing and moved back to his home state of Connecticut.
If volunteering on behalf of Veterans causes is considered another career, Tom has no plans to retire again. He has been associated with The Fisher House Foundation since 2010, he is currently the Commander, American Legion Department of Connecticut, and is the Chairman of the Veterans Commission in his current home town of Milford, Conn.
Go to our Event Registration Page to reserve your place now!
_______________________________________________________________________________
Dec 9th was Our 60th

ANNIVERSARY

Clebration

! 
We celebrated the Christmas holiday and our 60th Anniversary as a MOAA affiliated Chapter on Dec 9th at Redding Country Club.  MOAA's Executive VP and COO, Col Jim O'Brien was our guest speaker.
During O'Brien's 25-year career, he served in a variety of financial management positions at all levels of the Air Force, including four command positions. His final assignment was comptroller for the Air Force Reserve, where he was responsible for nearly $5 billion annually.
O'Brien is a graduate of Norwich University in Vermont and holds a master's degree in systems management from the University of Southern California. Additionally, he is a graduate of the Air War College and a senior executive fellow from Harvard University's John F. Kennedy School of Government.
A GREAT TIME was had by all and we raised over $300 for the YAA!  COL O'Brien shared some key MOAA updates and his upbeat personality was a perfect addition to our holiday event.  Kudos to LT Don Boyle for negotiating this new venue!  If you missed it, we're going back there March 17th for our Spring Event.  Stay tuned and members can expect our first quarter newsletter by the end of Feb.
We also elected our new Executive Board of Officers for 2019.  Check 'em out HERE!
Stay warm!
looking back at

Tuesday, September 11th

 
at
Port 5

in Bridgeport.

OUR SPEAKER was  Sherri Vogt
Sherri

is the Veterans District Aide & Service Academy Coordinator for House Representative Elizabeth Esty. Sherri is a Gulf War veteran and does a fabulous job for the congresswoman.
She will share with us what has been
happening in Wash, DC as it relates to veteran matters

and the VA: Recent legislation that has passed into law; Legislation and veteran issues that is expected to be addressed by Congress; And, other veteran issues that need to be addressed.
Sherri brings a lot of enthusiasm, energy and knowledge.
                 ________________________________________________________________________________
____________________________________________________________________________________
Here's a recap of last year's picnic at Port 5:
Our summer membership gathering on 
September 20th was a huge success.  
There were a lot of firsts!! …
First time on a Wednesday.

First time in the evening.

First time at Port 5.

First time hosting a BBQ.
And we had a GREAT SPEAKER:  
Janet Barrett, the recent Connecticut author of 
A TRUE STORY OF WAR, LOVE AND ONE EXTRAORDINARY HORSE
______________________________________
Old News…..
The 2017 Young American Awards Banquet was held on 
 May 23rd.

  It was a huge success!   We had 136 attendees and gave $5700 away in scholarship moneys to 22 most impressive High School seniors.  Here is the list of this year's YAA Awardees.  Many of them will be on their way to our military service academies.  LTC David Cole was this year's YAA Chair and everyone agrees it was the Best Ever!  The new venue at Shore & Country Club was awesome!
Bravo Zulu, David!  Well Done!
___________________________________________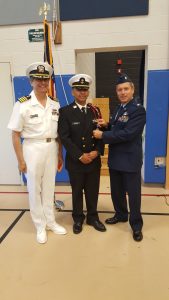 WCMOA President Lt Col John Simonetti, USAF (Ret) and past president CAPT Bill Glass USN (Ret) present the MOAA JROTC Medal award to Cadet Lt. Commander Jessie Abrams of Bridgeport Military Academy during an impressive ceremony held at the school on 2 June 2016.  CAPT Glass has been the Senior Naval Science instructor at the Academy since its inception in 2013.
____________________________________________________________________
_________________________________________________________________________
Membership
Men and women who have served or are serving on active duty, or in one of the National Guard or Reserve components, as a commissioned or warrant officer in one of the seven US uniformed services, as well as widows or widowers of any deceased member of one of those services (auxiliary members). Yearly Dues are $20.00, and our year starts each January first.  Auxiliary members are dues exempt.
To join our ranks, please fill out and send us a Membership Form.
WCMOA, PO Box 2145, Norwalk, CT 06852-2145
Chapter Activities
The chapter holds business and social meetings quarterly.    Regular quarterly meetings are held at the Adam's Rib restaurant at the Norwalk Inn, 99 East Ave, Norwalk, CT. Meetings commence at 1200 hours with a social hour, and include a program speaker.
In June, the chapter conducts an impressive formal military dinner and ceremony to honor our Young American Awardees at the Italian Center , 1820 Newfield Ave, Stamford, CT.  The Young American Awards Program (YAA) honors  graduating seniors from over 20 area High Schools, selected for their patriotism and leadership potential. Click here for directions to the Italian Center in Stamford. Be sure to check the chapter's newsletter for location and program information, or or contact us at