WCMOA SPRING QUARTERLY MEETING DATE- MARK YOUR CALENDARS, GET YOUR BABY SITTERS LINED UP!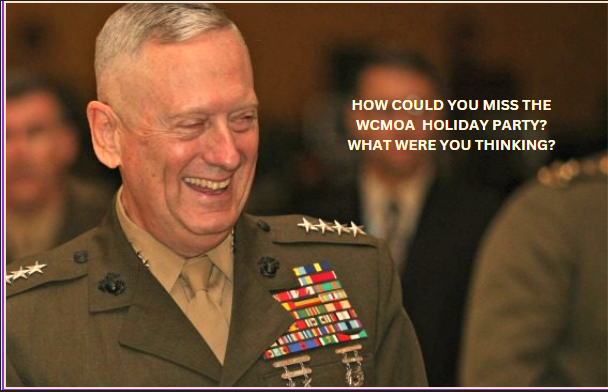 FOR THOSE OF YOU WHO MISSED OUR BLOWOUT HOLIDAY PARTY, GENERAL "MAD DOG" MATTIS IS GIVING YOU A CHANCE TO REDEEM YOURSELVES:
WHEN: SUNDAY, MARCH 19TH
TIME 1200 to 1500, $49/Head
LOCATION: REDDING COUNTRY CLUB
OUR GUEST SPEAKER WILL BE Lt. Col MATTHEW SILVER, USAF (NYANG)
Sign-up For Our Quarterly Event
---
For All YAA Liaison Officers
A mandatory meeting will be held on 18 February 2023 at Port 5 (69 Brewster St, Bridgeport, CT 06605) from 1100-1400. 
IF you cannot make, please reach out to: or call Donna (203) 577-9568;
or call Mary (757) 373-5646; or or call Susan (203) 257-2089
---

THE 2022 HOLIDAY LUNCHEON!!!
WCMOA celebrated its 2022 Holiday Luncheon at Redding Country Club on 11 December 2022.  1LT Matt Hicks welcomed a big crowd and walked us through a few admin bits and bobs before the party really got going.  Updates were provided on everything from financials (thanks to John Simonetti) and events (19 or 26 March for our next event, TBD) before Matt put the slate of new officers for 2023 forward – and confirmed!  Last, but certainly not least, Donna Monteleone and Mary Durand, Co-chairs for our signature Young American Awards event, gave an update.  YAA 2023 will take place on THURSDAY, 1 June, from 1700 hours at Tashua Knolls Country Club, 40 Tashua Knolls Lane, Trumbull, CT.
Please take a look at photos from the event –  WCMOA 2022 Holiday Luncheon
---
Chapter Activities
The chapter holds business and social meetings quarterly.    Regular quarterly meetings are held at a variety of venues within Fairfield county and we always have an engaging guest speaker.
In June, the chapter conducts an impressive formal military dinner and ceremony to honor our Young American Awardees.  The Young American Awards Program (YAA) honors  graduating seniors from over 30 area High Schools, selected for their patriotism and leadership potential.  Be sure to check the chapter's newsletter for location and program information, or or contact Donna Monteleone, Membership & Recruiting Chair, on or +1-203-577-9568.