ATTENTION ALL WCMOA MEMBERS!
MARK YOUR CALENDARS
OUR NEXT EVENT IS THE FALL MEETING
WHERE: THE INN AT LONGSHORE WESTPORT, CT
WHEN: SATURDAY, SEPTEMBER 17 TH
TIME: 1200 to 1500
Our guest speaker will be Thomas J. Saadi, Commissioner of the Connecticut Department of Veterans Affairs.  Commissioner Saadi previously served as Acting Commissioner of the Department from October 2017 through February 2018, and prior served as Chief of Staff and General Counsel for the Department.  Commissioner Saadi is a Lieutenant Colonel in the U.S. Army Reserve.  He retired from the Danbury City Council after twenty years of service in March 2019, and previously served on the Danbury Zoning Commission, Board of Tax Review and is a Justice of the Peace.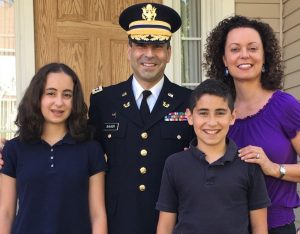 Commissioner Thomas Saadi and Family
Please come join us at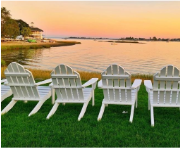 Quarterly Event Reservation Form
---
The 2022YAA  – An Unabashed SUCCESS!
This is our SIGNATURE Event!  Although we  were not able to hold the YAA banquet for the past 2 years, the full WCMOA  Young American Awards Program RETURNED this year, with panache!   This was our 46th year promoting leadership and patriotism in Fairfield County high school graduates. 
As you know, the program is built around genuine contact with the awardees, school counselors and administration, and student parents. This year's program culminated with our "dining out" style military banquet on June 5th at the Ethan Allen Hotel in Danbury, a spectacular venue.   We had 24 schools participating and 130 in attendance.  What a spectacle!   We awarded $12,800 in scholarship monies!  The students and families were mesmerized by the motivational words of Rear Admiral Dennis Moynihan, USN (Ret).
Stay tuned for photos and more info this year's event!
Was our SPRING LUNCHEON on 24 April
It was a resounding success at a brand new venue –  Bernard's in Ridgefield.  It had a lovely ambiance and the food was truly gourmet.  Our speaker was Dr. Michael Crystal who spoke of his involvement with The Honor Foundation, providing unique career transition services to special operations military personnel when they decide to leave the service.
Dr. Crystal has thirty years of diverse experience as a talent leader, manager, and developer in multiple industries, disciplines, and enterprises of varying sizes. He is an author and executive coach who advised and counseled more than 300 C-suiters, leaders, and managers, four of whom were selected to FORTUNE Magazine's Most Powerful Women in Business lists, and eight of whom went on to become CEOs.
He also donates his timeand energyto WeSpeak, an organization focused on providing a supportive environment for women across all industries to develop their presentation skills and build confidence through coaching.
His presentation focused on the volunteer work he does with a unique institution, The Honor Foundation. This group was created to serve the U.S. Special Operations Forces (SOF), helping those who are leaving the Special Operations community. He coaches these Special Warfare Operators (Navy SEALs, Army Rangers, Marine Corps Raiders and Air Force Pararescuers) as they transition into professional careers.
---
Chapter Activities
The chapter holds business and social meetings quarterly.    Regular quarterly meetings are held at a variety of venues within Fairfield county and we always have an engaging guest speaker.
In June, the chapter conducts an impressive formal military dinner and ceremony to honor our Young American Awardees.  The Young American Awards Program (YAA) honors  graduating seniors from over 30 area High Schools, selected for their patriotism and leadership potential.  Be sure to check the chapter's newsletter for location and program information, or or contact Donna Cole, Membership Chair, on or +1-203-847-7689.