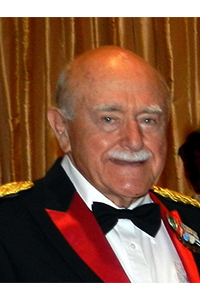 VP Chaplain
COL Serge Gabriel, USAR (Ret) 1948 French Baccalaureat; 1949 French Armor OCS, Saumur, France; 1950 Tank Destroyer Platoon leader, Mainz, Germany; 1953 U.S. Infantry OCS, Ft. Benning, Georgia; 1954 Staff Officer, Eight Army Ordnance Depot, ASCOM City, Korea; 1955 Joined Army Reserve for 26 years service; 1957 Began 31 years with IBM World Trade Corp. (Market and Operation Planning manager: 5 years in Tokyo (monthly RTU attendance), for Japan, Korea and South East Asia; 3 years in Paris for Europe and Saudi Arabia (monthly NAVEUR attendance at Embassy, yearly active duty training in Germany); 1960 B.S. New York University; 1990 Master of Art in Religion (M.A.R.), Yale Divinity School, delivery of Bible seminars in Canada, France and West Africa; 1998 to date: participation in the development of the 1781 Washington-Rochambeau Revolutionary Route (W3R) from Newport RI to Yorktown VA.
First Vice President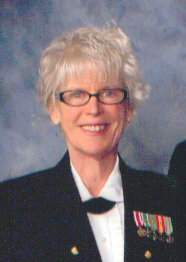 CAPT Mary A. Durand, Nurse Corps, USN (Ret) started her Navy life as the daughter of a 30-year career Naval aviator; born in Annapolis, Maryland, she traveled widely with her family. She is proud of her father's career which started as E-1 and retired as O-6. She is equally proud of her brother who served as a SEABEE in Vietnam and her nephew who is presently serving as a Navy JAG Commander.
Captain Mary Durand started her own Navy career as a Selected Reservist, serving seven years before being recalled to active duty. Her 13 years of civilian nursing experience included trauma, burn, operating room, critical care and dialysis nursing. She completed her Masters Degree in Adult Health Nursing and licensure as an Adult Nurse Practitioner prior to starting active duty in 1988. While on active duty she served in various medical-surgical positions at Pensacola, as the community health nurse on a developmental team in Okinawa, and then in the Tidewater, (first completing a dual Master's Degree in Nursing through DUINS as a Family Nurse Practitioner and Community Health Nurse; then as the Senior Nurse at Oceana Branch clinic). Assigned as one of the first Family Nurse Practitioners ADDU to SURFLANT from the Naval Medical Center, Captain Durand enthusiastically brought primary care and health promotion services to the deck plates; serving on over 40 different "small boy" ships with a total of 186 days underway. She deployed for 178 days as the senior officer to the Camp Doha clinic in Kuwait and served with Army medical providers. Captain Durand rounded out her 27-year career with a tour at NATTTC clinic in Pensacola, Florida providing primary care and health promotions services to a large joint service training community.
Captain Durand's personal awards include the Navy Meritorious Service Medal, Navy Commendation medal with two gold stars, Navy Achievement medal with one gold star, and the Military outstanding volunteer medal. Other awards include: Meritorious Unit Commendation with two stars, Sea Service Deployment Ribbon, Global War on Terrorism Expeditionary and Service Medals, and the National Defense Ribbon.
Captain Durand has one daughter, Alison, who works for Principal Financial Group, married with two children and one son, Alan, who is a professional rock and ice climbing guide for Alpine Endeavors. The Durand family also includes a bichon frise puppy. Captain Durand's retirement activities include working as an APRN for Norwalk Medical Group and teaching at Western Connecticut State University. She is an active member of the Navy League, Western Connecticut Military Officers Association, and the Notre Dame Guild.