Join us at the Redding Country Club on March 24th for our Spring gathering. Our guest speaker is Connecticut American Legion Commander CMSgt Tom Flowers, USAF (Ret).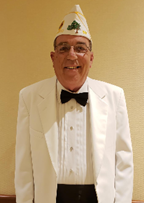 Tom was born in Waterbury, Conn., in 1947 and raised in Stratford, Conn. He entered active duty military service in the United States Air Force in 1966. His career in the Air Force spanned 27 years until his retirement in 1993 in the grade of Chief Master Sergeant. After his retirement from active duty, Tom went to work for Specialized Marketing, Inc., in Dallas, Tex., as a multi-state Regional Sales Manager with his clients being exclusively military installations. Tom retired again in 2005 from Specialized Marketing and moved back to his home state of Connecticut.

If volunteering on behalf of Veterans causes is considered another career, Tom has no plans to retire again. He has been associated with The Fisher House Foundation since 2010, he is currently the Commander, American Legion Department of Connecticut, and is the Chairman of the Veterans Commission in his current home town of Milford, Conn.
Go to our Event Registration Page to reserve your place now!